Dundee teenagers jail terms cut for Facebook riot threats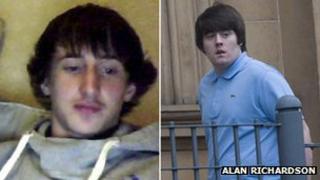 Two teenagers who used Facebook to try to start a riot in a Scottish city have had their prison terms cut.
Shawn Divin, 16, and Jordan McGinley, 18, were both jailed for three years after their Facebook page called for a "Riot in the toon" which urged people to "kill some daftys".
The Dundee riot page was published during last summer's unrest in England.
Judges at the Appeal Court ruled McGinley should now serve 27 months, while Divin must serve 29 months.
In a written judgement, Lord Mackay of Drumadoon said he had reached the conclusion that the original sentences imposed were excessive.
However, he said both appeal judges involved in the case had agreed custodial sentences were appropriate.
'A prank'
He added: "The offence was committed a few days after the outbreak of very serious rioting, looting, fire raising and criminal damage in various parts of England.
"Questions were being raised by and in the media as to whether anything similar was liable to occur in Scotland.
"Both appellants may have considered that what they were involved in amounted to a prank that got out of hand.
"However, others who read the Facebook pages could well have taken a different view.
"For all these reasons, the offence falls to be regarded as a serious one."
A message on the Facebook page written by Divin, who has convictions for assault and breach of the peace, stated: "Only join if yir actually gonna come - if anyone has guns bring them down to this - kill some daftys."
Police later arrested the pair - who both claimed it had been done "as a joke".
More than 200 people signed up to the event on the site - with the page telling them to go to Dundee city centre on the evening of 17 August.