Explosive device at Dundee tenement 'could have put lives at risk'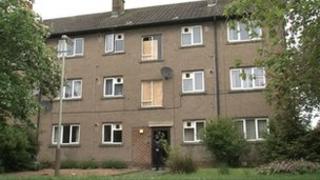 A device which exploded in a tenement in Dundee had the potential to put lives at risk, according to police.
Residents were evacuated from their homes in Cullen Place after a blast in a close at about 21:56 on Thursday.
Windows and doors were blown out, but no-one was hurt. Tayside Police said the device used lacked sophistication but could have caused harm.
Neighbours in the housing estate said the explosion was the second in the area in recent days.
Officers said items of forensic interest have been recovered from the common close where the device went off.
An initial assessment was carried out by an explosive ordnance disposal team, which travelled to the scene from Edinburgh.
High jinks
Insp David McIntosh, from Tayside Police, said: ''The device appears to be fairly crude and uncomplicated, but irrespective of whether this was intended to be high jinks or something more sinister, there was the very real potential for it to cause significant damage and put lives at risk.
''In the event, and mainly because of the confined nature of the common close, the explosion damaged doors in the block, blowing them open.''
Residents were later allowed to return to their homes.
Police have urged anyone with information to contact them.
Insp McIntosh added: ''We have received reports in recent weeks of fireworks-related incidents and loud bangs being heard in the Douglas area.
"Clearly, there is tremendous risk in playing with any type of explosive - including fireworks - and we would urge residents to report any incidents they are aware of or information that they have."
Uniformed patrols in the area have been stepped up and detectives and scenes of crime officers are continuing their investigations.
Door-to-door enquiries were under way and CCTV footage in the area was being reviewed.