Dundee play suspended over actor Robert Paterson's death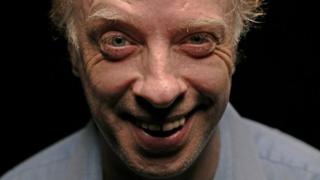 Performances of Shakespeare's The Tempest in Dundee have been suspended following the death of one of the play's actors.
Robert Paterson, 54, was due to perform as Gonzalo, the honest councillor in the production.
Theatre group Dundee Rep said the production was cancelled this week but would resume next week.
Mr Paterson, who had also served as a writer and director with the company, died at his home in Perthshire.
He had appeared in more than 50 productions for Dundee Rep, including Anna Karenina and A Midsummer Night's Dream, since 2002..
A spokeswoman for the theatre said staff were reeling from the news of his sudden death.
She added: "Robert was an institution at the Rep appearing in over 50 Rep Ensemble productions.
"We are shocked and devastated with the news. Our thoughts and sympathy are his family at this desperately sad time."
The spokeswoman said performances of the play would resume on 21 June at 19:30.