Jane Cumming death: Husband killer judged insane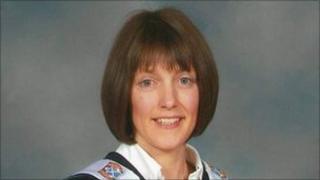 A father-of-two who stabbed his wife 36 times has been found not guilty of murdering her after a jury ruled he was insane at the time.
Neil Cumming, 46, killed his wife of 16 years, Jane, at the family home in Longforgan near Dundee in July 2011.
The court heard Cumming was suffering from persistent delusional disorder and believed wife was poisoning him.
Judge Norman Ritchie QC ordered him to be detained at the State Hospital without limit of time.
After a trial at the High Court in Glasgow, which lasted less than an hour, a jury found Cumming not guilty by reason of insanity.
The killing of Mrs Cumming, the mother of his two daughters, aged 13 and 12, took place in the family home.
Advocate depute Alex Prentice, prosecuting, told the court that Cumming had driven off after the attack on his wife and smashed his car into the back of a lorry at 101mph.
At the time he had unquantified levels of ketamine, diazepam, paracetamol and ibuprofen in his system.
Police went to the Cumming's home after the crash and found his wife lying in a pool of blood in the utility room.
The court heard that on Monday 11 July, just three days before her death, Mrs Cumming called a doctor at Wedderburn House, Dundee, because she was worried about her husband's mental state.
Cumming, who had a history of mental illness, was seen at home the following day, but was not displaying any signs other than being very anxious.
He then visited his psychiatrist at Wedderburn House on 14 July.
The psychiatrist thought his medication should be reviewed and suggested he should be admitted to Carseview Hospital in Dundee, but there were no beds available.
It was decided to monitor him in the community until a bed became available.
The court heard that in the view of the psychiatrist he was not detainable under Mental Health legislation.
Cumming was risk assessed and deemed to be a low risk.
Defence QC John Hamilton said: "Mr Cumming loved his wife dearly and still can't understand the events that led to him harming her. That was the very last thing he ever wanted to do.
"His wife was his greatest support. There are two daughters, aged 13 and 12, and he hasn't seen them since July last year.
"He doesn't know if he will ever see them again."
He added: "He is really sorry for what he has done. He hopes that in due course his daughters will understand he was ill when he did what he did.
"He also wants to say sorry to Jane's family and say that it wasn't him it was the illness."