Serial child porn offender Steven Perrie jailed for third time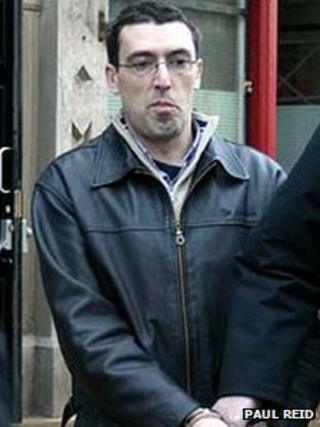 A man previously jailed for possessing one of the largest hauls of child abuse material ever found in Scotland has been sentenced to eight years in jail after being caught for a third time.
Steven Perrie, 46, from Forfar, pled guilty to two charges involving indecent images and videos of children.
He was jailed in 2004 for possessing 400,000 images and 16,000 video clips of child abuse but was freed early.
The builder was jailed again for 36 months in 2005 for similar offences.
Judge Lord Uist told Perrie: "These sentences clearly had no deterrent effect on you.
"It seems you are an incorrigible user of child pornography."
The High Court in Edinburgh heard that some of the material held by Perrie was at the most extreme end of the scale and had been sourced from Europe, Asia and the Americas.
Reported by girlfriend
Lord Uist told Perrie the images in his collection were "disgusting and repulsive".
He said: "Having regard to you previous convictions and the number and nature of the images involved I have concluded a severe sentence is called for in this case to satisfy the requirements of punishment and deterrence."
The court earlier heard that Perrie, who is on the sex offenders register for life, was reported to the police by his girlfriend after she found a cache of indecent images.
Perrie was detained at Ardrossan, in Ayrshire, in May last year and admitted the offences at the High Court in Aberdeen in March.
His counsel Susan Duff said a psychiatrist had assessed him as posing a medium risk of harm to the public and argued that he should not be given an Order for Lifelong Restriction.
She said there had been "a change in attitude" on the part of Perrie and he accepted that he required intervention.