Woman in Alloa admits failing to properly feed dog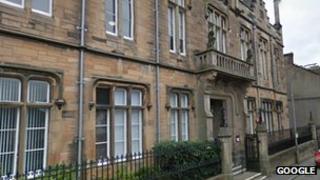 A woman in Alloa left a dog in such a poor condition its bones showed through its skin, a court has been told.
Ann Horne had been looking after Tara, a relative's eight-year-old Alsatian.
Alloa Sheriff Court heard the 47-year-old failed to properly feed the animal or seek treatment for a condition which stopped the dog from eating.
Horne was fined £150 after pleading guilty to failing to provide the dog with necessary veterinary attention and adequate nutrition.
Tara was discovered in an emaciated state in December 2011, weighing just 17.2kg (37.9lb).
SSPCA inspector Louise Seddon found the dog. She said: "Tara was extremely thin, with her bones clearly visible, and was suffering from hair loss across the top of her back which exposed open sores.
"When I took her to a vet she was found to be suffering from a pancreatic insufficiency, a condition which prevents dogs from properly digesting their food."
Serious concerns
Ms Seddon expressed disappointment at the court's decision not ban Horne from looking after animals in future
She added: "In our opinion, Horne has demonstrated she is unfit to ensure the welfare of an animal and we would have serious concerns for any animals in her care in the future."
Under the Animal Health and Welfare (Scotland) Act 2006, people found guilty of being cruel to an animal, or failing to provide for its welfare needs, may be banned from owning animals.
Tara has been receiving treatment from the SSCPA and has returned to a healthy weight of 26.4 kg (58.2lb). She is to be returned to her owner, who did not face charges.