Judge delays sentence on three men over Dundee stabbing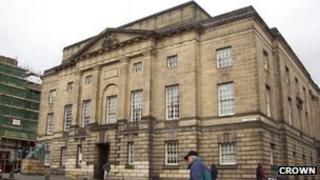 A judge has asked for more time to sentence three men involved in street fight that caused another man's death.
The High Court in Edinburgh heard Alexander McLennan was attacked in Dundee by Ross Ramsay, John Cassidy and Steven Batchelor on 7 January.
Ramsay pleaded guilty to culpable homicide while Cassidy and Steven Batchelor both admitted seriously assaulting Mr McLennan.
Judge Lord Bracadale delayed sentencing for a day to consider the case.
All three will appear again before the court on Thursday.
The trial head that the three accused had been involved in a feud with 55-year-old Mr McLennan's family.
The attack occurred just two days after the three men had been freed on bail after an appearance at Dundee Sheriff Court.
Attempted resolution
Advocate depute Douglas Fairley, prosecuting, said: "The origin of the offences appeared to lie in an ongoing dispute between the three accused on the one hand and members of the deceased's family, including the deceased, on the other."
The court also heard that the two sides had met days before the killing to try to solve their differences, but the meeting ended in blows.
Mr Fairley described how trouble began on the afternoon of Saturday 7 January when a niece of Alexander McLennan began shouting and swearing at Batchelor, 31, about previous incidents.
Later Batchelor met up with Ramsay, 30, and Cassidy, 31, at Ramsay's home before heading to nearby Kingsway East where a fight involving Mr McLennan ensued.
Mr Fairley said: "It is very difficult to piece together what happened next as those eye witnesses who saw the relevant incident did so only fleetingly and from different angles."
The prosecutor said at some stage a knife appeared and the Crown could not refute Cassidy's claim that it was Mr McLennan who produced the weapon.
No knife was found and the only scientific evidence was blood on Ramsay's trainers which matched Mr McLennan's DNA.
Defence QC Brian McConnachie said Cassidy had been slashed by Mr McLennan and had been treated in hospital. "In the course of the assault the deceased produced a knife and used it on Cassidy, causing the injury which was seen by the casualty surgeon."
All three will appear again before the court again on Thursday for sentencing.