MSP says lower rail fares could help new V&A Museum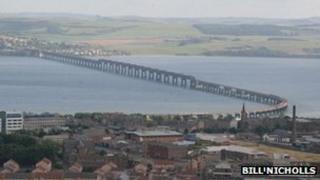 An MSP has called on the Scottish government to help cut the costs of rail fares to Dundee.
Jenny Marra has written to Transport Minister Keith Brown expressing her concern about the high price of train journeys from Dundee to other major cities in Scotland.
Ms Marra said lower costs would benefit major projects like the new V&A Museum.
A Transport Scotland spokesman said the minister had received the MSP's letter and will respond shortly.
Ms Marra said the city is not featured in the 'regulated zone' which benefits commuters around Glasgow and Edinburgh.
She said this has led to a complicated pricing system which means it is often cheaper to buy multiple tickets for different legs of a journey.
Ms Marra said the current pricing set-up is unfair: "Everyone knows that train fares in and out of Dundee are far too high.
"This is because Dundee has never been included in the subsidised zone.
"The government needs to tell us why they are subsidising train fares round Glasgow and Edinburgh but there is a Tay tax to get over the Tay Rail Bridge."
The Dundee-based MSP has called for the city to now be included in the zone and is claiming such a move would benefit improve the amount of investment and visitors to Dundee.
'More visitors'
She said: "The government is investing money in the new V&A at the waterfront.
"They should look seriously at rail fares to Dundee as part of this overall strategy because we'll attract many more visitors and potential businesses to our city if we get fairer rail fares like the other cities in Scotland."
A Transport Scotland spokesperson said: "The minister has received Jenny Marra's letter and will respond shortly.
"The Scottish government is committed to affordable fares for passengers, including those in Dundee, and will ensure that the next franchise encourages greater use of our railway.
"We have been made aware that there are a number of fares anomalies and we are looking at ways to address this issue under the terms of the existing franchise."