Dundee University researchers given £11m by Wellcome Trust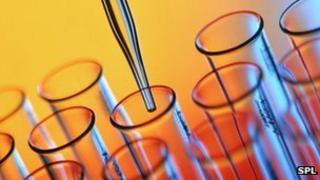 Research groups at Dundee University have been awarded more that £11m by the Wellcome Trust.
The charity, which is committed to supporting research into improvements in human and animal health, has split the funds between two teams.
The Centre for Gene Regulation and Expression has been given a £5.4m grant for its research into cell biology.
A grant of £5.4m was also awarded to help set up a Centre for Dermatology and Genetic Medicine.
The university said the funding was a strong investment from the Trust.
Leading centres
Professor Doreen Cantrell, head of the college of life sciences at Dundee, said: "These grants offer recognition of the outstanding basic and translational life sciences research that goes on in Dundee."
The Centre for Gene Regulation and Expression (GRE), led by Professors Angus Lamond and Julian Blow, was established in 2008, and claims to be one of the leading research centres studying the cell biology of gene expression and chromosome biology.
Prof Lamond said the £5.4m would support and develop their expertise in a number of essential fields including microscopy, mass spectrometry and proteomics.
He said: "I am delighted that the Wellcome Trust will be funding another five years of our research.
"This is clear recognition of the work that all our researchers and support staff in GRE have done over the past five years to form a centre for research excellence in gene regulation and expression here in Dundee.
"The grant will allow us to continue our ground-breaking research and world class technological infrastructure."
Professor Irwin McLean is leading the team behind the new Centre for Dermatology and Genetic Medicine.
He said the Wellcome grant could shorten the time it will take to bring new skin disease therapies into clinical use.
Cutting edge technology
Prof McLean said: "We are enormously grateful to The Wellcome Trust for awarding this strategic grant in recognition of the strong international reputation of the Dundee skin science groups in identifying the causes of skin diseases and developing new medicines for inherited skin disorders."
"This award, to establish the Centre for Dermatology and Genetic Medicine, will allow us to rapidly expand our capability to find the causes of the remaining unsolved skin conditions using cutting edge genome sequencing technology and to expand our dermatology drug discovery programme.
"Importantly, this large injection of funding will shorten the time to take our new therapies closer to clinical use."
The award will fund eighteen new research posts, 15 of them full-time positions.