MP Eric Joyce fined for curfew tag offence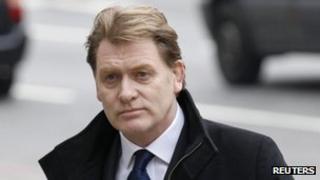 Falkirk MP Eric Joyce has been fined £600 for removing an electronic tag, in breach of a community order imposed after a bar brawl at Westminster.
Joyce, 51, appeared at Stirling Sheriff Court after he cut off the tag to take part in a parliamentary boat race.
The MP left the Labour Party after he was given a 12-month community order following the brawl.
Joyce claimed he was granted permission by officials supervising his community order to temporarily remove the tag.
The conditions of his community order included a weekend curfew.
Electronic buzzer
The boat race, in early July, was a charity event between members of the House of Commons and members of the House of Lords.
The court heard Joyce used a pair of scissors to cut the tag off, to avoid negative publicity pictures of him wearing it.
When it was cut, it set off an electronic buzzer, and he was contacted by security firm Serco.
He said outside court that he had not wanted to let down the organisers of the boat race but admitted he had made "an error".
Joyce, who now lives in Stirling, admitted breaching the tag order on 4 July.
His lawyer Dick Sandeman said the race had originally been set to take place on 11 July, the day after his tag was to be removed.
Court order
He said the bulky nature of the tag would make it difficult for Joyce to row and that he was aware the press attention that would be brought by him wearing the tag, so he removed it.
Sheriff John Halley said: "You took it upon yourself to remove the tag which you were required to wear.
"You're recorded as saying that you cut it off to stop your photograph being taken for the charity event.
"It's not for you or anyone other person under a court order to decide to refuse to comply with the court order."
The former army major was given the 12-month community order after admitting four counts of assault at the Strangers' Bar in the Palace of Westminster.
During the brawl, he had headbutted Tory MP Stuart Andrew and attacked three other politicians.
Westminster Magistrates Court heard the 51-year-old later told police: "You can't touch me, I'm an MP."
He was permanently suspended from the Labour party and has said he will stand down at the 2015 election.