Children's nurse had abuse images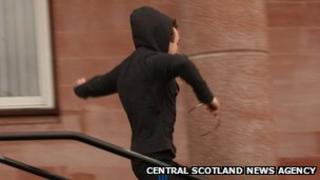 Child abuse images were found on the home computer of a children's nurse, Falkirk Sheriff Court has heard.
Stuart Lilley, a nurse at Edinburgh's Sick Kids Hospital, was reported to police by his then-girlfriend after she found a disturbing image of a toddler on his laptop.
Officer later found more than 6,000 indecent images on the computer and its external hard drive.
He was put on probation and ordered to carry out 200 hours of unpaid work.
Lilley resigned from his job as a paediatric nurse in one of the hospital's intensive care units after being charged by police.
About 300 of the images found on his computer were in the most serious category used to grade the crimes.
Character references
He admitted that between 8 August 2010 and 16 August 2011, at his former home in Grangemouth, he had in his possession indecent photographs of children.
Lorraine Glancy QC, defending, said Lilley now lived in Glasgow and was employed as a carer for his uncle, who has Down's syndrome.
She said: "He was in a relationship at the time of the incident, but when these matters came to light the relationship was terminated.
"He accepts that he will never return to the job that he trained for for a number of years. He also understands that his future employment hopes in general will be severely limited given this conviction."
She said she had character references from Lilley's family and friends, who described him as "kind and considerate", and believe his offending was a "blip."
Ms Glancy said she believed it was not inevitable that Lilley be jailed for the offence.
The lawyer added: "The main reason being that there were 111 real images, and more than half had been earlier deleted. Over 6,500 were cartoon images, if they can be described as that. In the vast majority of the pictures, no children were harmed in any way by their production."
'Very serious'
Sheriff John Mundy decided to put Lilley on probation and the sex offenders' register for three years.
He was also ordered to carry out 200 hours unpaid work, and banned from being unsupervised with children or on the computer.
The sheriff said: "There is no doubt that the court recognises these sorts of crimes as very serious.
"However, I've taken into account what has been said on your behalf, and believe I can just - and only just - avoid sending you to prison."
As Lilley left the court building there were chants of "beast" from a group of about 10 members of the public outside, some of whom had brought their young children.
Melanie Hornett, director of nursing at NHS Lothian, said: "We can confirm that Mr Lilley is no longer our employee having previously worked at the Royal Hospital for Sick Children for a short period of time in 2011.
"We would like to reassure the public that NHS Lothian takes child protection extremely seriously and has cooperated fully with police on this matter."