Wildlife 'friendly' kerbs pilot in Blairgowrie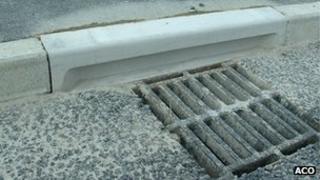 Special kerbs are to be introduced in a Perthshire town to help prevent local wildlife being washed down the drain.
Perth and Kinross Council are to pilot the use of wildlife kerbs at a site on Elm Drive in Blairgowrie.
The new kerbs contain a recess allowing animals to follow the lower edge of the kerb while keeping them clear of the drains.
Wildlife rangers will monitor the site to assess the impact on the local wildlife population.
The authority has been carrying out surveys on roads in East Perthshire since 2010 to gauge how frequently animals fall into roadside gullies.
Hazardous gullies
The surveys of road gullies follow prior observations during routine drain maintenance that significant numbers of trapped wildlife - especially amphibians such as frogs and toads - were being found, having fallen through the drain grid.
The council is concerned that when animals are moving en masse, such as during the breeding season, the gullies can become very hazardous, as once an animal is trapped it is unlikely it will be able to escape or survive for any length of time.
In 2010, 322 road gullies were checked, with 69% of those examined containing wildlife, comprising 641 amphibians and 56 mammals (primarily voles but also mice and shrews).
Significant impact
In 2011, 636 gullies were checked, with 63% containing wildlife - 1,087 amphibians and 114 mammals were found.
The majority of frogs, toads and newts found in 2011 were in road gullies less than 500m from a breeding pond, suggesting roadside drains could have a significant impact on their local populations.
If the Blairgowie pilot proves successful, wildlife kerbs could go on to be used elsewhere in the area.