Jenny Methven's son tells trial how he found her body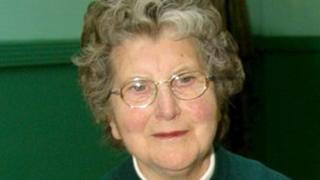 The son of a murdered Perthshire pensioner has described the moment he found her dead in the home they shared.
Jenny Methven, 80, from Forteviot, died on 20 February this year.
David Methven said he had come home from work to find his mother slumped in a chair in the kitchen, with a towel over her head and covered in blood.
William Kean, 46, who had known Mr Methven for 20 years, is accused of murder and stealing thousands of pounds from his mother. He denies the charges.
Mr Kean has lodged a special defence of incrimination, blaming Mrs Methven's son or people connected to him.
Mr Methven, a contractor, told prosecutor Alex Prentice QC that he was surprised to find no lights on when he returned home.
"She was lying half on and half off a kitchen chair with a towel over her head," he told the court.
"She was slumped down. There was a great deal of blood on her, on the carpet and on the walls. It was pretty much a mess."
He said he initially thought she had had an accident.
Mr Prentice had asked Mr Methven if he had ever wanted to harm his mother and he replied: "No sir." He also denied ever being part of a plan to harm her.
The jury heard that there was more than £150,000 in the cottage when Mrs Methven died and her son said it was a combination of her money, some of his money and money that had been left by his late father.
Mr Methven said: "About £20,000 to £30,000 would be mine and the rest would be a combination of what she had and what she would have inherited."
Mr Prentice asked: "Why was it not lodged in a bank?" and Mr Methven replied: "My mother was paranoid if she had to go into care that the family money would be taken from us."
The court also heard that £15,000 was stolen from their cottage in September 2011. Mr Methven said that this money was his and had been taken from his bedroom while his mother was out shopping.
He said he had never told her the money had gone because he did not want to worry her, and he never reported it to the police.
Just weeks later a £2,000 alarm system was installed at the cottage.
Cut fingertips
Mr Methven also told the court that he had known the accused for 20 years and had first met him when he worked for the council's roads department and later invested in one of Mr Kean's businesses.
Mr Methven added that Mr Kean was well known to his mother and would be welcome in her home.
Mr Kean is accused of murdering Ms Methven at her cottage by repeatedly striking her on the head and body with a blunt instrument.
He is also alleged to have repeatedly cut his own fingertips and palms in order to prevent the police getting useable print samples.
He is charged with stealing £15,000 from Mrs Methven's cottage on 14 September last year.
He is further accused of attempting to defeat the ends of justice between 20 February and 28 March this year by allegedly pouring bleach or similar liquid onto bloodstained trousers and cutting a pocket from them and concealing the trousers and pocket material in the eaves of a garage.
The trial, at the High Court in Glasgow, continues.