Andy Murray's Olympic gold postbox to be redone after paint picked off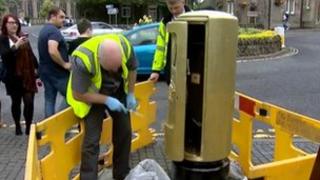 Andy Murray's gold postbox in Dunblane will have to be repainted after fans picked away much of the paint, it has emerged.
The box was painted to commemorate the Olympic tennis champion's singles win over Roger Federer on Sunday.
But the Royal Mail said on Wednesday that "substantial amounts of the gold paint are no longer there".
It is believed that visitors to the town may have picked off flecks as mementos of Murray's win.
The first coat of paint was only applied on Monday.
The new paint job is expected to be completed within the "next few days".