David Methven denies offering William Kean hush money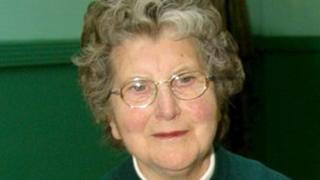 The son of a murdered Perthshire pensioner has denied paying hush money to the man accused of carrying out the killing.
Jenny Methven, 80, from Forteviot, died on 20 February this year.
At the High Court in Glasgow David Methven said he did not meet William Kean after her death to offer him £90,000 to stay quiet.
Kean, who is 46, is accused of murder and stealing thousands of pounds from Ms Methven. He denies all the charges.
Giving evidence for a second day David Methven was asked if he had approached the accused and told him not to speak to police.
No involvement
Defence QC Brian McConnachie asked him: "Did you not tell him you would pay him a significant sum to keep quiet," and Mr Methven said: "Absolutely not."
Mr Methven was then asked: "Did you know something was doing to happen to your mother?" He replied: "No, I had no involvement whatsoever."
He also rejected the defence's claim that he had deliberately spent the day of his mother's death in Dunning, Kinross and Coupar Angus and made a point of being seen.
Mr Methven also told the court the accused was "a trusted member of our circle."
He said: "There's nobody more surprised than me to see William Kean sitting in the dock charged with this murder."
Blood everywhere
Earlier, the court heard a recording of the 999 call Mr Methven made after coming home and finding Jenny Methven.
He was heard telling a 999 operator: "I just came home and found my mother unconscious . There's blood everywhere."
During the phone call Mr Methven said he thought his mother might have fallen while out walking her dog.
The jury was also told that the accused, William Kean, was one of the first friends David Methven called after his mother's death.
Cut fingertips
William Kean is accused of murdering Ms Methven at her Perthshire cottage by repeatedly striking her on the head and body with a blunt instrument.
The 46-year-old is also alleged to have repeatedly cut his own fingertips and palms in order to prevent the police getting useable print samples.
He is charged with stealing £15,000 from Mrs Methven's cottage on 14 September last year.
He is further accused of attempting to defeat the ends of justice between 20 February and 28 March this year by pouring bleach or similar liquid onto bloodstained trousers and cutting a pocket from them and concealing the trousers and pocket material in the eaves of a garage.
The trial, at the High Court in Glasgow, continues.