MSP wants Freedom of Stirling honour for Andy Murray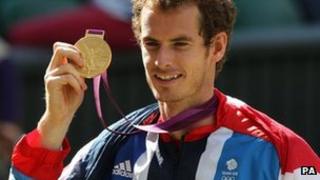 Calls have been made for Olympic gold medal winner Andy Murray to be given the Freedom of Stirling.
Dunblane's MSP, Keith Brown, has written to Stirling Council asking them to consider giving the tennis player the honour.
He congratulated the 25-year-old on his victory over Roger Federer at the London games, calling it a fantastic result.
He said everyone in Dunblane would be proud of the victory.
Mr Brown said: "It's been a hundred years since any member of Team GB has won a singles gold in tennis at the Olympics and I am delighted that Andy's hard work and training has paid off and resulted in double medal success.
"This is an achievement which should be recognised locally and I have written to Stirling Council to ask them to consider giving Andy the Freedom of the City."
A spokesperson for Stirling Council said the authority was considering the request.
Andy Murray's victory has already been commemorated in Dunblane, the Royal Mail have painted a post box gold to honour the occasion.