Three-day computer games festival starts in Dundee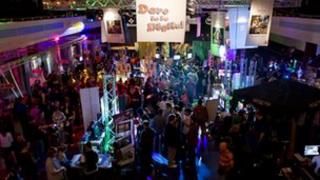 A three-day festival celebrating Scotland's computer games industry has started in Dundee.
Thousands of people are expected to attend the "Dare ProtoPlay" event in the city's Caird Hall.
The free festival, organised by Abertay University, acts as showcase for Scotland and Dundee's expertise in computer games development.
Visitors will be able try out 15 games developed especially for the festival, as well as mainstream titles.
The new games were created as part of a competition that saw teams of students from around the world create a game in nine weeks.
Three winners will be chosen at the festival, with the chance for one of them to go on to pick up the "ones to watch" Bafta new talent award.
Scottish Culture Secretary Fiona Hyslop, who opened the event, said: "Dare ProtoPlay is a fantastic festival which attracts the world's best young game designers to Scotland and showcases Dundee's cutting-edge skills in computer games development.
"By inspiring and developing a new generation of games designers, Dare ProtoPlay is enhancing Scotland's creative reputation on a world stage and helping to maintain our competitive edge in a fast-growing global industry."
Prof Louis Natanson, who leads computer games education at Abertay University, added: "The games industry in Scotland is incredibly diverse, fast-changing and creative, and we're committed to showing our young people that studying art, maths and physics at school can get them one of the most exciting jobs in the world."
The free event runs from Friday 10 August to Sunday 12 August at Caird Hall and Dundee's city square.