Jenny Methven trial told William Kean's car was seen heading to Forteviot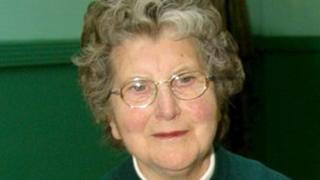 The car used by the man accused of murdering a Perthshire pensioner was seen heading toward the village in which she lived on the day she died, a court has been told.
William Kean is accused of killing Jenny Methven, 80, at her Forteviot home on 20 February.
At the High Court in Glasgow, PC Stewart Ramsay said the silver Peugeot 206 had been seen on CCTV.
Mr Kean, 46, denies the charges against him.
PC Ramsay told the court he had examined CCTV footage from a newsagents in Bridge of Earn in Perthshire and had seen the Mr Kean's car heading towards Forteviot shortly before 10:00.
He was asked how long it would take to drive from there to Mrs Methven's cottage and replied: "About five to ten minutes."
The jury was told that on 20 February, a woman called Elizabeth Cook had made a telephone call to Mrs Methven that ended at 10:27.
Mrs Cook had earlier told the jury that Mrs Methven ended the call to her saying there was a vehicle at her driveway.
Wet with blood
Also giving evidence on Monday was fingerprint examiner Claire Echevarria, who told the court that Mr Kean's fingerprint was found on a phone on the wall of the kitchen where Mrs Methven's body was discovered.
Ms Echevarria said that in her opinion, Mr Kean's fingers were wet with blood when he touched the phone.
Earlier the jury was shown an apparent suicide note Mr Kean wrote a month after Ms Methven's death.
In the letter he said he was scared of being blamed for something he had never done.
Mr Kean is alleged to have repeatedly cut his own fingertips and palms in order to prevent the police getting useable print samples, and with stealing £15,000 from Mrs Methven's cottage on 14 September last year.
He is further accused of attempting to defeat the ends of justice between 20 February and 28 March this year by pouring bleach or similar liquid onto bloodstained trousers and cutting a pocket from them and concealing the trousers and pocket material in the eaves of a garage.