Jenny Methven accused's wife tells of shock over detention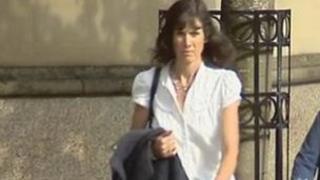 The wife of the man accused of murdering a Perthshire pensioner has told his trial she was shocked when police detained him.
William Kean, 46, denies killing 80-year-old Jenny Methven at her home in Forteviot on 20 February.
His wife Mary told the High Court in Glasgow that she had never known her husband to to be in any trouble with the police or the authorities.
Mr Kean denies all the charges. The trial continues.
Mrs Kean told the jury that she had no idea police were coming to detain her husband on 29 March this year.
Nothing unusual
The accused had been admitted to Murray Royal Hospital in Perth following an apparent suicide bid and had been permitted to visit a garden centre with his wife on 19 March in Scone when he was detained by officers.
Mrs Kean told the jury that from the day Mrs Methven died, until when her husband was hospitalised she had not noticed anything unusual about him.
The jury also heard from Det Con Rosemary Reid, who was the first CID officer on the scene.
She told the court it was odd that despite the amount of blood and Mrs Methven's injuries her glasses were not damaged or blood spattered.
Det Con Reid said it was possible that the glasses had been put on Mrs Methven's face after she had been attacked.
No emotion
The CID officer also said that she spoke to Mrs Methven's son, David, who found her body in the kitchen of the cottage they shared when he came home from work after 17:00.
She said she found him devoid of emotion and showing no signs of grief.
Det Con Reid said she had had suspicions about Mr Methven, but added: "I didn't suspect him necessarily. I was suspicious of the situation and what he was telling me."
Mr Kean is also alleged to have repeatedly cut his own fingertips and palms in order to prevent the police getting useable print samples, and is accused of stealing £15,000 from Mrs Methven's cottage on 14 September last year.
He is further accused of attempting to defeat the ends of justice between 20 February and 28 March this year by pouring bleach or similar liquid onto bloodstained trousers, cutting a pocket from them and concealing the trousers and pocket material in the eaves of a garage.
He denies all the charges. The trial continues.