Michael Nolan jailed for Dundee cigarette seller murder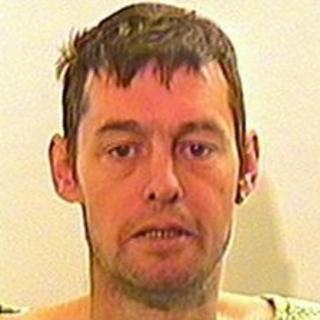 A man has been sentenced to 17 years in jail for the murder of a 63-year-old man in Dundee.
Michael Nolan pleaded guilty at the High Court in Edinburgh to killing John Kennedy at his home in Mossgiel Crescent on 29 April this year.
The 44-year-old inflicted 82 knife wounds on his neighbour after taking offence at a remark about his girlfriend.
Sentencing Nolan Lord Pentland called it a sustained and vicious attack.
Mr Kennedy was found in a pool of blood in his home in Mossgiel Crescent after worried neighbours heard a late night disturbance on 29 April.
Lost control
The family of Mr Kennedy, sitting in court, gasped in horror when they heard for the first time the details of the frenzied knife attack.
The court was told that the number of stab wounds on Mr Kennedy's body suggested "a complete loss of control."
Nolan's knife had sliced though the 63-year-old's jugular vein and another blow had pierced his heart. There were 68 injuries to the back of his torso and others to his arms, shoulders and hand.
The court heard that for many years Mr Kennedy had sold contraband cigarettes and tobacco from his Dundee home.
Advocate depute Andrew Brown QC described how police were puzzled because nothing had been taken from Mr Kennedy's wallet. His cache of cigarettes and tobacco appeared intact.
Door to door inquiries began and police found many of the people they spoke to were regular and long-standing customers of Mr Kennedy. No-one had a grudge against him.
But as Nolan had fled from the scene he had thrown away clothes, shoes and the murder weapon.
DNA evidence
Another witness who regularly combed the area looking for scrap metal found the knife and tucked it up his sleeve - until a friend who knew about the murder inquiry contacted police.
Mr Brown told how DNA tests on the items put Nolan in the frame.
A judge ordered Nolan, 44, to serve at least 17 years before he can apply for parole, telling him he had committed a horrific murder.
At the High Court in Edinburgh, Lord Pentland told Nolan: "It is clear you subjected him to a sustained and vicious attack in which you used an appalling level of violence. This was evidently a remorseless and frenzied assault."