Job losses as Dundee-based WH Brown Construction goes bust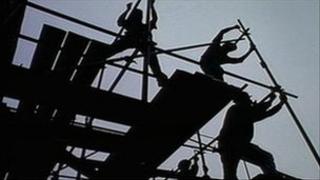 A Dundee-based building firm has gone bust after more than 40 years of trading, with the loss of 130 jobs.
WH Brown Construction was placed in receivership after struggling to cope with "difficult economic conditions".
Derek Hyslop and Colin Dempster of accountants Ernst & Young have been appointed as joint receivers.
The firm said they were now focused on trying to establish the full extent of the company's debts.
WH Brown Construction Limited, which is based in the city's West Pitkerro Industrial Estate, and its subsidiary Bronco Timber Products Limited entered receivership at the request of the company's directors.
The receivers said staff would be given help with the completion of redundancy and benefit claims forms and offered one-to-one counselling and advice on retraining and employment opportunities.
Mr Hyslop said: "Despite the best efforts of the directors, difficult economic conditions have resulted in a situation where the immediate cessation of trading is necessary at both companies.
"Regretfully, this has resulted in the unavoidable loss of approximately 130 jobs.
"We are now focused on establishing the full extent of the company's debts as we aim to realise its assets on behalf of its creditors."
Construction union UCATT said it was seeking urgent answers concerning the future of staff at Brown Construction.
Harry Frew, regional secretary of the union, said: "It is extremely disappointing to hear that Brown Construction is facing closure threatening over 100 jobs.
"This is a kick in the teeth for the local economy which is already struggling.
"UCATT will be seeking a meeting with the administrators to establish what the future holds for our members."