Falkirk man hid brother's death in benefits fraud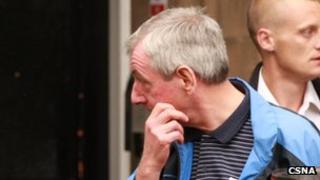 A man has admitted to covering up his brother's death in order to claim nearly £40,000 in benefits.
Alistair Brown, 61, admitted failing to notify Falkirk Council about his brother John's death, whose skeletal remains were discovered by firefighters in December 2010.
He had withdrawn £38,237 from his 69-year-old brother's bank account between August 2007 and January 2011.
Sheriff Kenneth McGowan deferred sentence on Brown until 13 September.
John Brown's remains were found by firefighters at the flat in Denny, which he shared with his younger sibling Alistair, when emergency services dealt with a water pipe which had burst following freezing conditions in December 2010.
Alloa Sheriff Court heard that Alistair Brown had hidden his brother's body following his death in August 2007.
He then hid the truth from officials and continued to claim his brother's benefits to a total of £38,237.84.
Guilty plea
Brown, who was due to face trial on Friday, admitted failing to declare his brother's death so he could withdraw the benefits from his bank account.
At a pre-trial review last week, defence agent Gordon Addison told the court that Brown, who was the official carer to his brother, would be pleading guilty to the fraud.
Depute fiscal Ann MacNeill confirmed that the Crown would accept the guilty plea.
She also said that the Crown would accept not guilty pleas to two further charges, which had alleged that Brown lied to the council so he could remain in the property in Denny, and that he failed to notify the registrar of Births, Deaths and Marriages that his brother had died.
Background reports have been ordered into the case.