Perthshire Farmer accused of abandoning animal carcasses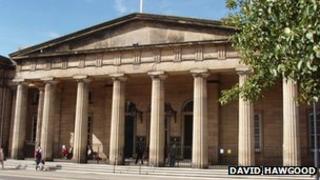 A farmer has been accused of leaving the rotting carcasses of more than 350 animals lying on his estate.
At Perth Sheriff Court John Ferguson, 50, was accused of leaving the dead animals at a farm in Alyth in Perthshire over a five month period.
The farmer is facing a total of three charges relating to the welfare of animals on his farm.
Mr Ferguson was not present at court. The case was continued without plea.
The farmer, who has a herd of 1,120 sheep, has been accused of failing to provide a suitable environment for his livestock between 1 October last year and 23 February this year at Welton of Creuchies farm.
It is alleged that he failed to remove in excess of 354 animal carcasses, having failed to provide adequate nutrition, a suitable diet or appropriate sheltered accommodation.
That charge alleges that Mr Ferguson failed to protect the animals from injury, suffering or disease by failing to get them treatment for liver fluke and failing to monitor the animals.
A second charge alleges that he caused 95 cows and stirks (young heiffers or bullocks) unnecessary suffering by failing to provide them with adequate nutrition during the same time period.
The further charge alleges that the accused, by an act or omission, caused the animals unnecessary suffering by failing to provide treatment for lameness and liver fluke.
A third charge alleges that Mr Ferguson failed to hold 340 sheep and 14 cattle carcasses in a manner which would prevent other animals and birds getting access to them.