Warzone mine clearer used on Scottish nature reserve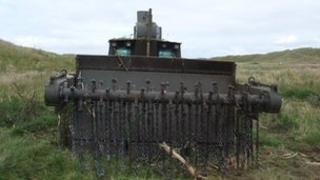 A warzone minefield clearer is being used on a Scottish nature reserve.
The machine has been brought in to clear gorse from the Barry Buddon MoD military training camp on the Tay Estuary in Angus.
Scottish Natural Heritage (SNH) said the land was an important coastal wildlife area but posed a danger due to unexploded bombs on the site.
The machine has a reinforced steel cab with bulletproof glass and will be used to clear vegetation and military items.
Known as an Aardvark, the vehicle has been acquired by Lanmarc Support Services (LSS), which manages the area for the MoD.
Once cleared, the area will also be able to be used for military training and exercises.
Mark Moore, SNH area officer, said: "Barry Links is a very special sand dune site in Scotland.
"Although it sounds a bit drastic, the scrub had wiped out most of the other plants so the Aardvark worked perfectly and plants will spread back from nearby areas.
"We will continue to work with LSS to help reach the Scottish government target for getting important wildlife sites back into good condition."