Most northerly Roman fort at Stracathro Hospital surveyed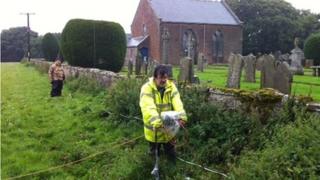 The site of the world's most northerly Roman fort is being surveyed by archaeologists.
The fort, near Stracathro Hospital in Angus, was discovered from the air almost 50 years ago but little is known about the site.
Volunteers will use non-invasive survey techniques to see what is under the ground, without causing damage.
The site is part of the Gask frontier, a line of forts and watchtowers which predates Hadrian's Wall.
The land frontier, which stretches from Doune near Stirling to Stracathro, near Brechin, was built in the 70s AD - 50 years before Hadrian's Wall and 70 years before the Antonine Wall.
It is also now thought to predate the Limes Germanicus or German frontier and could be the first Roman land frontier built anywhere.
Leading archaeologists Dr David Woolliscroft and Dr Birgitta Hoffmann will examine the fort as well as the adjacent Roman marching camp.
The project will also be looking for evidence of an early Christian church which was constructed after the Roman period, but subsequently replaced by an 18th century structure.
The original church site played a crucial role in Scottish history, being the place where John Balliol, who later became notorious as the puppet king of Edward I of England, surrendered the Scottish crown in 1296.
Dr Hoffmann said: "We're really pleased to be working in Angus this year, and we're looking forward to uncovering more of the story of the Gask frontier.
"So many people just aren't aware that the world's oldest Roman frontier passes through the area, and the role it played in Scotland's early history."
She said modern survey equipment allowed them to gain "a fairly detailed idea" of what was under the ground without the need to dig.
Dr Hoffmann said: "We know very little about Roman Stracathro, but by using different survey techniques, and good old-fashioned research, we'll get a better idea of what life in Roman Angus was like."