Wildlife friendly kerbs trial in Blairgowrie win award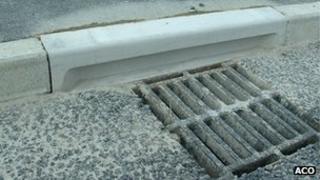 A local authority project aimed at protecting local wildlife has received a conservation award from an animal welfare charity.
Perth and Kinross Council has been given a Proggy Award by PETA UK (People for the Ethical Treatment of Animals).
The award was given for the authority's use of special kerbs designed to prevent animals like frogs and toads becoming trapped in roadside gullies.
The kerbs are being evaluated at a pilot scheme in Blairgowrie.
Perth & Kinross Council launched the initiative after a series of surveys of local roads found hundreds of animals were falling down drains and becoming trapped in the gullies.
Recessed kerbs
The authority was concerned that the road drains could prove to be hazardous especially during the breeding season or hibernation periods when animals move in large numbers.
As a result the Council launched a trial in Blairgowrie testing out the use of special wildlife kerbs, which contain a recess allowing animals to follow the lower edge of the kerb and avoid the danger from the drain.
PETA UK said they hoped the Proggy Award would encourage other councils to follow the example set by Perth and Kinross.
Compassionate council
A spokesperson for PETA said: "We're always excited to discover how people, companies, and organisations are making the world a better place for animals through innovative and kind thinking.
"Perth & Kinross Council is setting a great example for others to follow and PETA is delighted to recognise the Council for its compassionate initiative."
Cllr Bob Ellis said the council was delighted to be recognised for its efforts: "The Perth and Kinross area is renowned for its natural beauty and high level of biodiversity.
"We want to help protect the local wildlife population and the kerbs we are using in the pilot scheme are designed to assist with that, by giving animals a safer route when they move en masse.
"It's great that PETA have picked up on the work we are doing here and we appreciate the recognition of the efforts being made by our staff."