Sheriff fines T in the Park revellers caught with drugs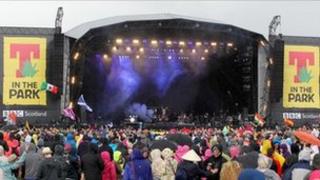 A sheriff has handed out over £4,000 in fines to revellers caught with drugs at this years T in the Park festival.
Sheriff Michael Fletcher imposed penalties totalling £4,400.
Among the 12 people fined at Perth Sheriff Court were a graphic designer and a bricklayer.
About 85,000 music fans attended the Balado event in July, during which 271 incidents were reported to Tayside Police, mostly drug-related, resulting in 30 arrests.
Sheriff Fletcher deferred sentence on a number of others charged with drug offences for reports.
Stupid actions
Graphic designer Scott Miller, 28, claimed he bought seven pink ecstasy tablets on his way into the festival because they would "sober him up".
Miller, from Glasgow, admitted that his actions had been extremely stupid and was fined £400.
A 47-year-old bricklayer, John Stewart, was also fined £400 pounds after he admitted getting caught with 10 ecstasy tablets at the festival on 6 July.
Teenager Michael Wilson then told the court he had bought cocaine to use at the festival because his peers had told him it was the "in thing" to do.
The 19-year-old from Northumberland, told how was ejected from the event for the drugs and was left standing for hours in a field until his mother came on a 200-mile round trip to collect him.
'Hard lesson'
Wilson admitted possessing the cocaine on 5 July and was fined £400.
He told the court: "It has been a hard lesson to learn. I am extremely sorry to my family."
Machine operator Dean McCalden, 25, from Bellshill, was also fined £400 when he admitted having cocaine at the festival on 7 July.
Glasgow sales rep Steven MacMillan, 31, was fined £400 for being caught with ecstasy on 7 July.
Fireplace fitter Christopher Haggerty, 28, from Glasgow, was fined £450 for having cocaine and cannabis.
Among the others dealt with at Perth Sheriff Court was 41-year-old Craig Dickson from Edinburgh, who admitted having cocaine and cannabis on 6 July, he too was fined £450.