Residents in legal bid to stop Longannet freight trains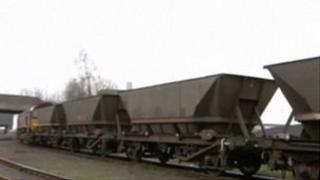 Campaigners are considering legal action in a bid to stop the disturbance caused by freight trains.
The Noise Vibration Action Group (NVAG) was founded by people living along the Stirling-Alloa-Kincardine railway line concerned about noise and vibrations.
NVAG said the move was in response to a lack of support from authorities.
Transport Scotland said they had installed acoustic barriers and a number of residents had already reported improvement.
Residents said they had initially been promised trains would cease at 23:00 when the line was reopened in 2008, but freight trains delivering coal to Longannet soon began to run on the line during the night.
The group said the introduction of night trains has seen their sleep disturbed for the last four years, however, there are no laws preventing the transportation of goods during the night.
Wits' end
NVAG are meeting on Thursday night to allow members to discuss further action. Thompsons Solicitors will attend to give advise on the legal options open to residents wishing to pursue the matter through the courts.
The group's chairman Archie McIver said residents felt the level of noise and vibration were excessive and had decided enough was enough.
He said: "Residents are taking legal action in order to gain what most would consider a fundamental right: the chance of a reasonable night's sleep."
Sarah Smith, from Thompsons Solicitors, said: "The residents have endured four years of interrupted home life, including serious sleep disturbance, without support from the official and regulatory bodies meant to help them.
"They are at their wits' end but have coalesced to form a well organised and determined action group.
Continued monitoring
A Network Rail spokesman said: "We are aware that some local residents feel noise levels both during normal operation of the railway and during maintenance work are disruptive and we are working with Transport Scotland, Clackmannanshire Council and the residents to understand the issues and identify solutions such as acoustic fencing if appropriate.
"But, by its very nature, there is always a degree of noise associated with the operational railway which we always do our very best to minimise."
A spokesman for Transport Scotland said the government had already taken action to reduce the disruption caused by the trains and that additional noise monitoring was being carried out.
He added: "The environmental impact of any transport project is always an important consideration and concerns raised about noise levels around the service have been taken seriously, with Clackmannanshire Council, Transport Scotland and Network Rail working together to provide acoustic barriers at all properties that met the mitigation criteria."