No rate cut for Dundee and Kirkcaldy shopping centres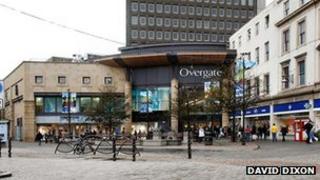 A court has rejected a decision to cut business rates for two shopping centres in Dundee and Kirkcaldy.
The Land Valuation Appeal Court in Edinburgh overturned previous rulings at local valuation committees to cut the rateable values for the Overgate and Mercat centres.
Both had argued that the rate, last set in 2008, was too high.
They claimed the recession had impacted rental levels and therefore, their rates should be reduced.
Business rates are set every five years and are based on the the rental value of the property.
Reflect downturn
The Mercat in Kirkcaldy and Dundee's Overgate had claimed that when the rates were set in April 2008 the property market was at its height and that since then the economic downturn had resulted in a fall in valuations.
Tenants had argued for rates to reflect that fall but the local rates assessors said the law did not permit that.
David Carson, Overgate centre manager, said they were disappointed at the decision: "At a time when economic conditions are challenging for retailers in Dundee and elsewhere, a further reduction would have been very welcome in helping to give businesses some much needed breathing space."
Property consultants Eric Young & Co had been leading the campaign for a fall in rates.
Craig Wilson, from the company said: "The Scottish Courts have allowed the Assessors appeal against the earlier favourable decision of the local Tayside Valuation Appeal Committee, which had resulted in a £2m reduction in the rates assessments of 49 shops within Overgate Centre."
Some reduction
However, the firm had managed to secure a smaller, 20%, reduction for its tenants.
Mr Wilson continued: "Whilst disappointed with the outcome of the case and the wider implications for the sector, I am still delighted that 49 of our occupiers will benefit from a significant reduction in their property costs."
Henry Gray, Tayside's depute assessor said: "The Assessor for Tayside notes the decision of the Lands Valuation Appeal Court and will be proceeding to give affect to the changes in the valuation roll as directed.
"The Assessor has a duty to compile and maintain the valuation roll as directed by statute and is satisfied that the Court has upheld the fact that his actions have been in accordance with the plain reading of the relevant legislation."