Five men remain in hospital after Stirling crash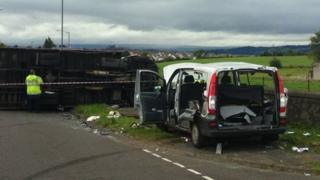 Five men remain in a serious but stable condition in hospital after a crash involving a lorry and a people-carrier in Stirling on Friday afternoon.
Two other men with less serious injuries left Forth Valley Royal Hospital in Larbert on Saturday after receiving treatment.
A total of 10 people were hurt when a large goods vehicle overturned on the A872 Glasgow Road at Pirnhall.
Those who were injured were travelling in the lorry and a people-carrier.
Staff from a nearby pub rushed to the scene to help the injured.
The road reopened just after midnight.