Bloody Scotland crime-writing festival launches in Stirling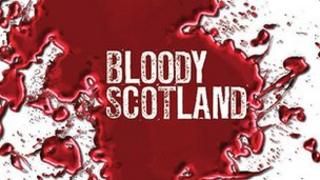 A three-day festival to celebrate Scotland's crime-writing scene begins in Stirling on Friday.
The inaugural Bloody Scotland event features workshops, meet-the-author sessions, seminars and readings.
Scots Christopher Brookmyre, Ian Rankin, Val McDermid and William McIlvanney are among the near 50 participating authors.
Writer Gordon Brown said: "Bloody Scotland is shaping up to be a cracking festival - a magical set of events."
Organisers of the festival - calling it "a weekend to die for" - say crime is the most popular genre of books among Scottish readers, both in book sales and library lending.
The Stirling Highland Hotel will host many of the sessions, but the main festival events are in Stirling's Albert Halls, with masterclasses at the University of Stirling.
Ian Rankin will open the festival with a keynote speech on the distinctiveness of Scottish crime writing and its relationship to international crime fiction.
The festival programme includes sessions on forensic technology, morality and e-books and new writers will have the chance to pitch their crime novel ideas to industry experts.
Ten authors feature in Saturday night's Sherlock Holmes dinner, and Peter James and Denise Mina are hosting a session called Touching Evil.
Inspector Rebus creator Rankin and fellow authors will engage in a debate entitled Would you Kill to Win the Man Bloody Booker.
On Sunday, the winner of the first Scottish Crime Book of the Year Award will be presented with a cheque for £3,000.