More passengers at Dundee as HIAL airports see growth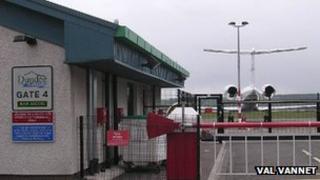 Dundee airport has seen passenger numbers grow for the first time this year.
The regional airport saw the number of people flying to and from the city grow by 1.8% in August after consecutive falls in the previous six months.
Highlands and Islands Airports Ltd (HIAL), which runs Dundee airport along with 10 other sites, saw an overall increase in passengers last month.
The operator handled 128,142 travellers, up 0.3% on August 2011.
The group's busiest airport, Inverness, which handled about half of all HIAL passengers, recorded growth of 0.5%, which the company attributed to an increase in international traffic due to the success of the city's Amsterdam route and the recently introduced Air France KLM code share.
Sharp rises
The strength of the oil and gas sector saw continued growth at Shetland's Sumburgh airport which recorded an increase last month of 4.7%.
Kirkwall reported a rise of 0.9%, while Islay and Barra recorded even sharper increases, up by 10.5% and 9.2% respectively.
However, not all sites saw passenger numbers rise.
At Stornoway, there was a 2.4% fall, mainly due to the completion of the school building programme, a project which used external construction workers flying between Stornoway and the mainland.
Weather cancellations
Tiree and Benbecula recorded a drop of 4.7% and 5.2% respectively, while at Campbeltown, passenger numbers fell by 0.1%.
The biggest fall was recorded at Wick, where a reduction in scheduled passenger movements, and weather related cancellations, saw passenger numbers drop by 34.3%.
Overall, across the HIAL network, for the year to date passenger numbers have increased by 2.4% (April to August 2012).
Inglis Lyon, managing director of HIAL, said: "The market is still clearly challenging, particularly the domestic sector. Given the economic climate, and the return to recession, this is not particularly surprising.
"Against that background, any growth is welcome, however modest; and despite these challenges, there are also reasons to cheer, including the success of the Inverness to Amsterdam service, the continued growth in energy related traffic and Dundee's return to growth."