Battle of Bannockburn material 'may be at police HQ'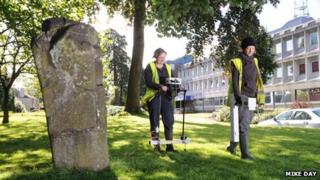 Archaeologists are hoping to uncover material from the Battle of Bannockburn in the grounds of Central Scotland Police headquarters at Stirling.
Council archaeologists are using ground penetrating radar near two standing stones at the front of the building.
The stones commemorate or were used in a skirmish which took place during the engagement in 1314.
Teams are also searching for a Roman road, which English troops marched along to get to the battle.
It is believed to be in an area behind the police headquarters.
The Roman road was built around 80 AD when Stirling was part of the Roman Empire. It was also believed to have been used by Edward II's army at Bannockburn.
700th anniversary
Deputy Chief Constable Gordon Samson said there was good reason to believe the area had historical significance: "We are very excited and intrigued as to what may be found this week.
"Thomas Randolph, the Earl of Moray, led 500 Scottish horsemen into battle against a troop of English cavalry, under the command of Sir Robert Clifford.
"The skirmish was won by Thomas Randolph and the area, Randolphfield, was named after him."
Stirling Council's archaeologist Murray Cook said: "Robert Clifford led a daring raid round Robert the Bruce's position near the Borestone to try to relieve the English troops at Stirling Castle.
"He was beaten back by Thomas Randolph's brave stand, which either used or is marked by, the two standing stones.
"If we find the road or anything to do with the skirmish we hope to come next year and carry out some excavations as part of the lead up to the 700th anniversary of the Bannockburn in 1314."