Three sets of twins start same course at Dundee College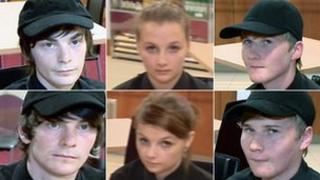 Lecturers at Dundee College's hospitality course may find themselves doing a double take or two this term.
Three sets of identical twins are starting their studies.
Brothers Martin and Marc Buick, 20, and John and David Magee, 17, all from Dundee are on the Level 1 course while Caitlin and Tamsyn Cooper, 18, from Longforgan have just embarked on a Higher National Certificate.
The six will all be serving both in the café and restaurant in the coming weeks
The Cooper sisters are hoping to run a hotel together at some point in the future.
Martin and Marc Buick hope someday to be running a kitchen between them while John and David Magee think their career aspirations will take them on separate paths.
David is hoping to pursue a career in Drama while John wants to go on to study English Literature.
Wrong twin
The college says it has had identical twins there before but never as many as three sets in the same department and while staff are becoming used to seeing the twins cases of 'mistaken' identity are still taking place.
Senior lecturer Susan Richardson confessed to being caught out: "I have to admit that I've had long conversations with one of the boys only to discover once I was finished that it was the wrong twin."
"The thing is, they are all so incredibly polite they seem to think it would be disrespectful to correct a member of staff who gets them confused."