Family rescued after River Tay canoe capsize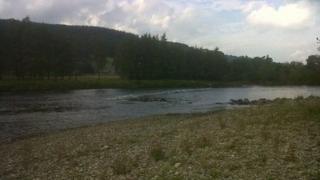 A family has been rescued after their canoe capsized on the Ray Tay in Perth and Kinross.
Tayside Fire and Rescue said a man, his wife and two children were pulled from the water at Dowally after getting into difficulty at about 11:50.
Crews found them clinging to their overturned canoe. A specialist water team swam out and used a rescue sled to bring them to safety.
They were treated at the scene for the effects of cold water immersion.
The alarm was raised when the man called 999 to report that their canoe had capsized.
Group manager Graham Smart from Tayside Fire and Rescue told BBC Scotland: "They hit a fast-slowing section just approaching the railway bridge and unfortunately the canoe capsized and all of them were left clinging to the upturned canoe.
"Thankfully the man was able to actually still reach to his mobile phone and call for help."
He added: "We swiftly deployed the water rescue teams and we were able to make contact with the family relatively quickly.
"We rescued the children first then went to retrieve the woman and the man."
He urged water sport enthusiasts to be aware of the potential hazards and changing conditions, even when the river state can appear relatively tranquil.