Battle of Bannockburn attraction captures 3D battle moves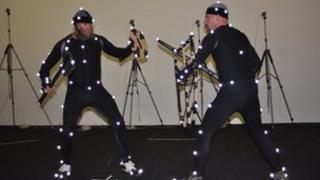 The first images of a hi-tech attraction that will bring the Battle of Bannockburn to life in time for its 700th anniversary in 2014 have been unveiled.
Experts have been using motion capture technology as part of new project to transform the visitor facilities on the site.
Footage of the first captured battle sequence has now been released.
The aim is to create a fully immersive experience of what the battle was like.
The work is part of the Battle of Bannockburn project, which is a collaborative initiative by the National Trust for Scotland and Historic Scotland to transform visitor facilities on the site of the historic battle.
'Real and brutal'
The project's designers, Bright White Ltd, are working with an advisory panel featuring some of the UK's top historians and with experts from the Centre for Digital Documentation and Visualisation, a joint partnership between Glasgow School of Art's Digital Design Studio and Historic Scotland.
Their use of 3D technology has enabled the creation of a new interpretation of the battle.
The footage is created by using motion capture video that should bring the realities and brutalities of medieval battle to life.
The technique used is similar to that which famously brought the character Gollum to life in the Lord of the Rings trilogy and provides a degree of realism that could not be achieved using traditional filming methods.
Re-enactors use replica weapons to engage in a real fights, which are recorded and digitally enhanced to create a realistic battle.
Motion capture can only feature three or fewer people at a time, so for the more complex fight sequences which will feature a cast of thousands, motion-capture data will be combined and special effects employed, to create a full-scale battlefield.
David McAllister, project director at the National Trust for Scotland, said they have worked to create an accurate and compelling attraction.
He said: "You know the myths, but we want the new visitor centre to be the place where you can get the facts.
"The trust takes pride in ensuring that the story of the battle is told in a way which gives every visitor the chance to enjoy the experience while paying respect to this critical point in Scottish history."
Chris Walker, managing director of Bright White Ltd, said the input from the advisory panel has been essential.
He added: "Every element of the audio visual production, from the props and scenery to the story and appearance of the characters is being carefully assessed by these experts.
"We are currently working on the final scripts and storyboards that will be developed into action sequences using motion capture technology and create the new visitor experience."