Clackmannanshire rescue centre takes in 119 sea birds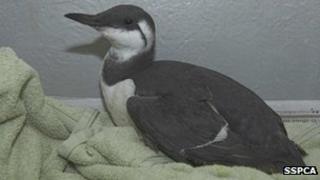 More than 100 sea birds are receiving care at an animal rescue centre after storms earlier in the week.
Staff at the Scottish SPCA National Wildlife Rescue Centre in Clackmannanshire are currently treating 95 guillemots, 21 gannets, two fulmars and one razorbill.
The birds were all rescued after struggling with the recent heavy seas and high winds.
All will be released once they have returned to full fitness.
The charity is urging anyone who discovers a sick, injured or weak seabird to contact their animal helpline.
'Severe weather'
Manager of the centre Colin Seddon said it had been a busy period for them.
He said: "In the past week we have taken in a total of 119 seabird casualties as a result of the storms and we fully expect to rescue more over the coming days.
"The guillemots were either too weak or underweight to cope with the storms and all of the gannets are youngsters who are not yet strong enough to survive during spells of severe weather.
"Most of the seabirds have been found on beaches along the east coast of Scotland, although some have also been discovered further inland and in the west."
He called for anyone who discovered a struggling bird to get in touch.
Mr Seddon added: "It's vital the public alert us if they come across a sick, weak or injured seabird as they're unlikely to survive without our help.
"We're hopeful that the majority of the casualties will make a full recovery and will be able to be released once they are fully fit and strong enough to cope on their own."