Stirlingshire road worker fined for soaking drivers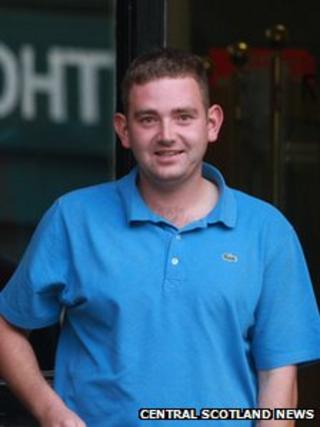 A road worker in Stirlingshire has been fined after pleading guilty to culpably and recklessly aiming a water hose at passing vehicles.
Darren Fotheringham, 23, admitted soaking passing drivers on the main road of Cowie on 27 of May.
But he was cleared at Stirling Sheriff Court of causing an accident that followed the incident.
Sheriff William Gilchrist fined him £340, describing Fotheringham's actions as "stupid and alarming."
Fotheringham had been using the hose to fill up a paddling pool in a friend's front garden.
Open Window
The court heard that as a car passed along the main road in front of the house, he aimed it straight through the open window, hitting driver Amy Skelton in the face.
He then sprayed the jet at motorcyclist Robert Piper, who was riding behind Miss Skelton, soaking him down one side of his body.
Stirling Sheriff Court heard that chaos then ensued, as Miss Skelton stopped and reversed to give Fotheringham a piece of her mind, and Mr Piper ran into the back of her car, falling off his bike in the process.
Fotheringham, from Cowie, pleaded guilty to "culpably and recklessly aiming a water hose into the faces of passing motorists".
Originally the charge also alleged that his actions caused the accident, but the Crown accepted he was not directly responsible for the crash and this part of the allegation was deleted.
'Irresponsible act'
Defence agent Ken Dalling said: "The accident would never have happened if the car hadn't reversed. He regrets this behaviour and admits what he did was foolish."
Sheriff William Gilchrist opted not to call for social background reports, which could have led to the imposition of a jail sentence, instead imposing a £340 fine.
He told Fotheringham that his actions could have had more serious consequences.
He said: "This was very stupid and alarming behaviour. Whether or not it caused an accident, and it's accepted that it didn't, it had the potential to do so."
The prosecution has been welcomed by motoring groups. A spokesman for the RAC said: "This was an irresponsible act which could have put life in danger. We welcome the court's decision and trust it will send a signal to others."