Dundee V&A museum secures Scottish government backing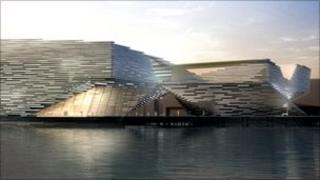 The new V&A museum in Dundee is set to receive £3m of Scottish government funding in 2013/14.
Culture Secretary Fiona Hyslop will confirm the move during a visit to a photographic exhibition in the city.
It is part of an overall support package of £18m from the Scottish government to the £45m scheme which is due to open in 2015.
Ms Hyslop said it was an "international cultural project" but also at the heart of the city's waterfront regeneration.
She is due to visit a major exhibition of photographs from the V&A collection which is on display at The McManus: Dundee's Art Gallery and Museum.
She will also receive an update on the new museum's progress.
"This display offers a tantalising glimpse of the fantastic quality of exhibition that we can expect to see at V&A at Dundee when it opens," she said.
"Content of this calibre shows the potential for this visionary project to strengthen the global reputation of Scotland - and Dundee in particular - as a centre of excellence for the creative industries."
V&A at Dundee director Philip Long said: "I am delighted to welcome the Cabinet Secretary to this exhibition, which shows the stunning quality of the material which the V&A can provide.
"We are of course extremely grateful for the Scottish government's support of our project, which is invaluable in helping bring V&A at Dundee to fruition."
The museum is being built in collaboration with the Victoria and Albert Museum in London.
Local partners in the project include the University of Dundee, the University of Abertay, Dundee City Council and Scottish Enterprise.
The museum is part of the £1bn Dundee waterfront project, which encompasses 240 hectares of development land along the River Tay.