Stirling study says South Asians prefer group exercise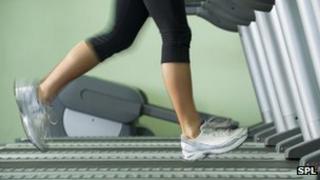 People from South Asia are more likely to exercise if it can be done as part of a group, according to research by a Stirling University scientist.
Dr Ruth Jepson was investigating the factors which encouraged ethnic groups to exercise and improve their health.
Statistics suggested people with Indian sub-continent backgrounds living in the UK had a greater risk of diabetes and heart disease.
They were also less likely to exercise than the general population.
Dr Jepson's work was part of a study funded by NHS Health Scotland to look into the levels of physical activity in minority ethnic groups.
The research looked at the exercise habits of people of Indian, Bangladeshi and Pakistani backgrounds living in Britian.
She said: "The idea of exercising your way to better health is not a message which motivates most Asian adults.
"They want exercise to have an element of socialising, of having fun with family or friends. They also need local or national role models."
Social obstacles
Dr Jepson said the research showed that South Asian men were interested in playing football and attending the gym, while women liked walking and swimming.
But she said many found obstacles to taking part in exercise.
She added: "Men are traditionally employed in shops where they work long hours, so they find it difficult to find the time to exercise. They want to spend what little spare time they have with their families.
"Previous studies have never really looked at what might motivate women to take physical exercise. There are no role models for South Asian women, no female Muslim athletes in the UK to encourage them to go out and exercise.
"But we found that they would go swimming or to the gym if they could do it as a way of socialising in a group."
Dr Jepson's research suggested that if exercise could be undertaken within the context of these social issues, more South Asian adults might take part.
She said: "Many South Asian adults don't often do things individually. If we are to encourage them to exercise their way to better health, then we must take account of the social context of their lives, which often revolve around the Mosque, the home and the family."