Peploe painting hidden in Stirlingshire house worth thousands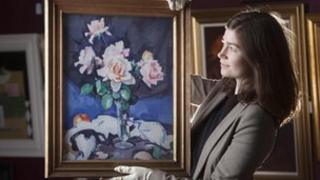 A rare painting that hung for decades in a spare room in a house in Stirlingshire because the original owner didn't like it has been estimated to be worth up to £300,000.
The 20in (51cm) by 16in (41cm) oil painting, 'Pink Roses', by Samuel John Peploe is being put up for auction by McTear's in Glasgow on 25th October.
Peploe is one of Scotland's most famous artists.
Last year one of his pieces was sold for £937,250.
The masterpiece was acquired in Glasgow by the late father of the Stirlingshire based seller in the early 1960's, when his wife sent him out to buy a painting of some roses.
On returning, his wife proclaimed she didn't like the piece and it was consigned to a spare room.
The seller, who wishes to remain anonymous, said they couldn't recall how much was paid for the painting 50 years ago saying it "was not significant enough to remember".
Huge interest
Brian Clements, managing director at McTear's Auctioneers, said the painting was remarkable.
"It may not have been to the original owner's taste but judging from the interest that has been shown so far it is clear there are a number of collectors who are very impressed by this remarkable piece by one of Scotland's most celebrated artists," he said.
Peploe was a Scottish post impressionist painter and, along with John Duncan Fergusson, Francis Cadell and Leslie Hunter, was a founding member of the group that became known as the Scottish Colourists.
He is noted for his still life works which show the influences from Manet.
Of the four Peploe still life examples which have sold at auction so far in 2012, prices achieved have averaged at about £400,000.
Auction records suggest Peploe is considered to be the most valuable of the Scottish Colourists with the current record for his work established in May 2011 at £937,250 for 'The Coffee Pot'.
That sale also marked the highest price ever paid for a work by a Scottish artist at auction.