Former Royal Marine admits Dundee bomb blasts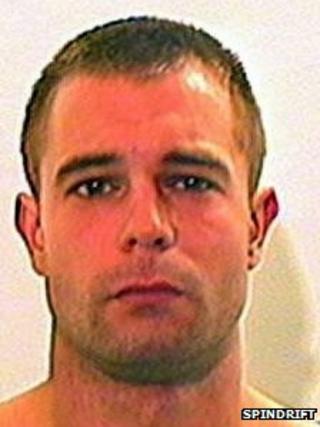 A former Royal Marine caused a blast at a block of flats in Dundee using a hair gel tub stuffed with explosives, a court has heard.
The High Court in Glasgow heard Allan Peach detonated two home-made bombs in the city on 7 June this year.
The 24-year-old admitted culpably and recklessly causing explosions to the risk of others.
Judge Lady Stacey remanded him in custody and deferred sentencing until next month.
The court heard the Peach detonated the home-made bomb at a tenement in Dundee blowing a number of doors of their hinges.
Purchased explosives
He also set off another device earlier that evening. No-one was hurt during either incident
Prosecutor Paul Kearney told how the 24-year-old had earlier bought several 1kg bags of explosive substances online.
These were potassium nitrate as well as aluminium and sulphur powders.
Mr Kearney added: "It had been established that he was actively seeking information on how to manufacture explosive devices."
He told the court Peach randomly threw the first of his bombs into the garden area of a block of flats in Cullen Place in Dundee about 21:00 that night.
He said witnesses described hearing "a loud bang", but no-one in the vicinity.
Bomb construction
Mr Kearney said Peach then constructed another improvised device after getting his hands on a hair gel tub, which he cleaned out and filled with powder.
He drilled a hole into the lid and placed a fuse wire into the contents.
The court heard Peach, wearing a green boiler suit, then went to another tenement in Cullen Place and was allowed entry by a resident.
A man was later heading home when he heard an explosion followed by the sound of smashing glass.
Mr Kearney said: "The force blew open the front doors of the properties on the ground and upper floor of the block. As a result, all the residents left their homes."
A number of people dialled 999 and fire crews later discovered a plastic container wrapped in brown tape within the scorch-marked building.
Property seized
A large-scale police probe into the blasts lead detectives to Peach after being alerted he had knowledge of the incidents.
His van was searched and a hard-drive as well as a mobile phone were seized.
The court heard these revealed "evidence of bomb making activities" and "tutorials" in how to construct devices.
Peach's lawyer Matthew Jackson said the offence was "unusual".