Dundee City Council proposes 'living wage' for staff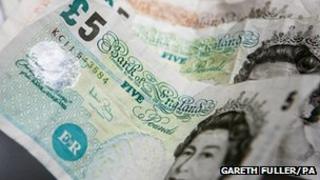 The lowest paid staff at Dundee City Council could be about to get a raise under the authority's plans to introduce the "living wage".
The proposals would see the hourly rate of pay for about 234 employees increase to £7.20 per hour.
The city council will start paying the wage from 1 November, if agreed by the Policy and Resources Committee next week.
Currently, just over half of Scotland's councils pay the living wage.
In some cases, workers will see their pay increase by more than 16%, as the national legal minimum wage for employees aged 21 and over is £6.19 per hour.
Good practice
Depute Convener of Policy and Resources Willie Sawers said: "We are introducing the living wage to help hard-pressed employees and their families who are facing increased living costs.
"This move is timely with the winter approaching and fuel costs being pushed up by the energy companies.
"As a major employer in Dundee, the city council tries to adopt good employment practice across the organisation."
Mr Sawers added that he hoped other public bodies would follow suit and that the living wage would be extended to their arms-length bodies.
Supporting employees
He said: "I would like to see this momentum extended to low paid workers employed by Tayside Contracts, our arms-length contracting organisation.
"Consequently, we have referred this to the joint committee of councillors from Angus, Perth and Kinross and Dundee who are able to make a decision on behalf of Tayside Contracts.
"Our support for the lowest paid council employees will also help to circulate over £122,000 in the local economy each year and we can meet this investment from our revenue budget."
The authority said the estimated cost of implementing the living wage for the council from 1 November would be £50,988 in the current financial year and £122,371 in the first full financial year.