James Brand jailed for almost drowning police officer at Gartmorn dam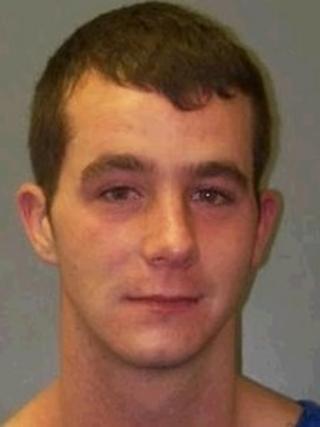 A man who held a policewoman face down in water during a drunken attack has been jailed for 40 months.
PC Angela Melia was investigating alleged vandalism when she was grabbed by James Brand as he struggled with officers at Gartmorn dam near Alloa.
The High Court in Edinburgh heard the officer thought she was going to drown during the attack on 1 July.
Lord Brailsford said the sentence would have been longer had Brand, 23, not admitted his guilt.
Advocate depute Iain McSporran told the court the officer was pulled down during the attack, ending with her face being held in the water.
Mr McSporran said: "She began to panic and inhaled water and silt.
"The sandy floor of the dam made it difficult for her to get a secure hand or foot hold the better to break free, and witnesses saw her struggling and thrashing about in an effort to break free from the accused's hold."
Life threatened
PC Mark Ormesher was able to push Brand backwards into the water before spraying him with CS gas.
The prosecutor said: "The danger caused to PC Melia's life by being held face down into water is self-evident.
"The evidence suggests that PC Melia's face was immersed for a very few seconds, but she is quite clear that she believed she would die when it was immediately obvious that the accused was intent on forcibly holding her head in the water."
Mr McSporran said the attack had had lasting effects on the officer.
"She became agoraphobic, did not leave her house for two weeks and was unable to return to work for five weeks," he said.
Mr McSporran said PC Melia's self-confidence had been affected, adding: "She does not believe that she will ever get over the incident".
Reduced plea
Unemployed Brand, from Sauchie in Clackmannanshire, was originally charged with attempted murder.
But the Crown earlier accepted his guilty plea to a reduced charge of assaulting the officer to her injury and the danger of her life by seizing her by clothing, causing her to fall into the dam and forcibly holding her head in the water.
He also pled guilty to assaulting, resisting, obstructing, molesting and hindering Central Scotland police officers by struggling and fighting with them.
Lord Brailsford said it was "of the utmost public importance" that police should be able to carry out their duty to investigate crime without interference.
He told told Brand he would have faced a five-year prison term for the attack, but for his early guilty plea.
Defence counsel Gavin Anderson said Brand offered "an unreserved apology" to the officer, who was in court to see him sentenced.