Dundee murder review calls for better UK/Irish links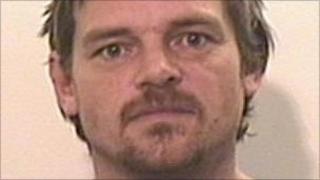 A case review launched after an Irishman killed a woman in Dundee has recommended better sharing of information on sex offenders between Irish and British police forces.
Patrick Rae raped and murdered 34-year-old Mary McLaren in February 2010.
After his trial it emerged that Rae had an extensive criminal record in Ireland.
Improved links between Irish and British police are currently being discussed.
The significant case review was launched in the wake of Rae's conviction in which it was discovered he had served time in prison in Ireland between June 1997 and April 2002, after being convicted of rape, attempted rape, aggravated sexual assault, assault and false imprisonment of a woman.
Police in the Irish Republic had also issued two warrants for the 42-year-old's arrest before he killed Mrs McLaren.
Shared information
The independent report was commissioned by Lothian and Borders Assistant Chief Constable Iain Livingstone, who was the lead officer for the Association of Chief Police Officers (Acpos) public protection portfolio.
It looked at the current procedures used by Scotland's police forces in areas such as information sharing on sex offenders and the existing UK and international legislation regarding warrants and convictions.
The review has made 15 recommendations, but accepted that Rae's deliberate attempts to evade and deceive authorities, by using different names and not revealing his past, made matters difficult for police forces.
Among the recommendations was a review of the content of the Memorandum of Understanding between the UK and Irish governments on the sharing of relevant information concerning sex offenders between British and Irish police forces.
The review also suggests legislation compelling foreign nationals with convictions for sexual and other specified crimes, and UK nationals convicted of similar crimes while abroad, to disclose them upon entering or returning to the UK.
Tayside Police have welcomed the findings.
Improved procedures
The force's Assistant Chief Constable Angela Wilson said: "We felt it was extremely important that this review was undertaken to help us strengthen existing procedures between forces across Scotland and indeed overseas police services.
"Reviews such as this allow us to scrutinise where we can improve and strengthen procedures and practice."
Assistant Chief Constable Wilson said: "Lessons are there to be learned and Acpos and all of our partners are ensuring that all the recommendations are carefully considered, acted upon and the learning shared."
The family of Mary McLaren said: "Mary is still in our hearts and not a day goes by when we don't think of her.
"Patrick Rea took Mary away from us and nothing can be done to bring her back to us. We cannot forget Patrick Rea or forgive him for what he has done.
"But we do hope that we can put this evil man to the back of our minds and move forward as a family with the many happy memories that we have of Mary."