Peploe painting hidden in spare room sold for £225,000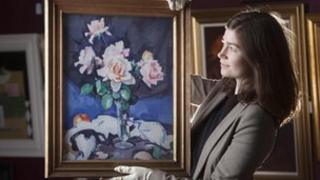 A rare painting which hung in a spare room in Stirlingshire for decades because the original owner didn't like it has sold for £225,000 at auction.
The 20in by 16in oil painting, Pink Roses by Samuel John Peploe, was sold on Thursday night by McTear's in Glasgow.
Peploe is one of Scotland's most popular artists.
His piece The Coffee Pot holds the record for the most expensive Scottish painting, selling for £937,250 in 2011.
Pink Roses was acquired in Glasgow by the late father of the Stirlingshire-based seller in the early 1960s, when his wife sent him out to buy a painting of some roses.
When he returned with the Peploe, she told him she didn't like it and it was relegated to the spare room.
The seller, who wanted to remain anonymous, could not recall how much was paid for the painting 50 years ago - but said it was "not significant enough to remember".
'Important work'
Brian Clements, managing director at McTear's Auctioneers, said the painting had attracted a lot of interest.
He said: "Pink Roses is a significant example of Peploe's work and the price paid reflects that.
"It may not have been to the original owner's taste but they are delighted with the price achieved and we were delighted to have the privilege of selling such an important work of art."
Peploe was a Scottish post-impressionist painter and, along with John Duncan Fergusson, Francis Cadell and Leslie Hunter, was a founding member of the group that became known as the Scottish Colourists.
He is noted for his still life works, which show influences from Manet.