Perthshire's Amber Festival expected to attract 7,000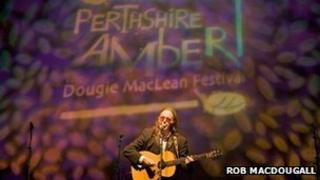 About 7,000 visitors are expected to make their way to Perthshire as the annual Amber Festival gets under way.
The event, which is now in its eighth year, will see 250 musicians perform at 25 venues across the region over 10 days.
The Perthshire Amber Festival is the brainchild singer-songwriter, Dougie MacLean, best known for his song 'Caledonia'.
It begins in the last week of October to coincide with the coming of autumn.
Mr MacLean said he was inspired by a festival in Canada that was held in autumn and thought a similar event would be perfect for Perthshire.
Promoting Perthshire
When the festival was first held it was a weekend event, it is now spread across 10 days and staged at venues across Perthshire from Scotland's oldest library at Innerpeffray Library, Methven Castle, Perth Concert Hall and Dunkeld Cathedral.
Mr MacLean said it was a great advert for the area.
He said: "About 40% of the people who come here are from outside Scotland, so they come and it's a great chance to let them see Perthshire in all its glory at this time of year.
"The musicians love it, because it's such a magical time of year. It's a big community type festival too. There's a great atmosphere among the musicians and the public."
The festival is estimated to bring about £750,000 into the local economy. Mr MacLean said he was delighted that the event was having such a positive impact.
He added: "It's great for me to be able to do that in my own backyard. This is the landscape where all my songs were inspired from. It's very magical to me."
The Perthshire Amber Festival runs from 26 October to 4 November.