Dundee's McManus marks 500,000 visitors since reopening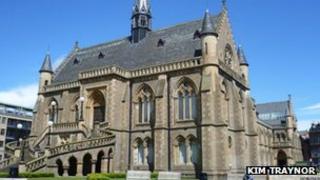 A Dundee art gallery has celebrated having 500,000 visitors since being refurbished two years ago.
The half a millionth visitor to The McManus Galleries in Dundee has been marked with a presentation by the city's Lord Provost Bob Duncan.
The museum's refurbishment was finished in 2010 and cost £12m.
It has recently exhibited works by Leonardo da Vinci and Titian and in 2000 was voted Dundee's best loved building.
The museum is run through Leisure & Culture Dundee, in partnership with Dundee City Council.
Lord Provost Duncan said: "This is a significant milestone for The McManus to reach and I am delighted to mark this occasion today.
"Since its refurbishment, the stunning building continues to attract thousands of people and is widely known as a quality destination. It is a free facility that offers so much for visitors.
"People are responding enthusiastically to our displays and exhibitions and there are also activities which are proving very popular."