Glasgow and Dundee to get transport funding from Europe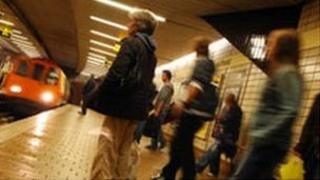 Two Scottish cities are to receive grants from the European Union to invest in local transport in an effort to spur regeneration.
Glasgow has been awarded £1.2m by the European Regional Development Fund to upgrade the Govan, Ibrox, Cessnock and Bridge Street subway stations.
A £419,000 grant is also being put toward the Clyde Gateway's Sustainable Transport Project.
Dundee is to receive £180,000 for the new Lochee Integrated Transport Hub.
Nicola Sturgeon, Scotland's Cabinet Secretary for Infrastructure, Investment and Cities, welcomed the funding, saying transport infrastructure was a key component of urban regeneration.
Complement regeneration
She said: "Our transport networks must contribute to making Scotland an attractive place to live, to visit and do business.
"In Glasgow, improvements at key southside subway stations will complement wider regeneration plans, integrating with other forms of public transport and linking opportunity with need.
"In the east end, funding for Clyde Gateway Urban Regeneration Company will contribute to the creation of a fast, reliable and integrated transport network to connect areas of need with areas of employment."
She said both projects would be an important investment in Glasgow's transport infrastructure ahead of the Commonwealth Games.
Enhanced travel
She also said the Lochee Integrated Transport Hub in Dundee would be invaluable in providing the local community with access to jobs and training opportunities.
She added: "For the modest sum of £180,000 the safety, usability, attractiveness and interchange options will be much enhanced for the people of Lochee and those visiting."
SPT's Revitalising Subway Stations project is to receive £1.2m in funding from the European Regional Development Fund (ERDF).
The £6m project will modernise Govan and Ibrox stations and design Cessnock and Bridge Street stations to the same standards.
There will also be improved facilities for passengers transferring between bus, Fastlink and the subway, including smartcard ticketing machines.
Upgraded stations
SPT chairman George Redmond said: "The award of this grant is another example of SPT successfully seeking out funding opportunities and delivering improvements that will stimulate the regeneration of Glasgow's southside and reinvigorate the local economy.
"This programme will put the Govan, Ibrox, Cessnock and Bridge Street stations at the heart of communities they service.
"And in Govan, the new hub will play a vital role in establishing a public transport link for people travelling to the new South Glasgow Hospital."
The £419,000 grant for Clyde Gateway's Sustainable Transport Project will see improvements to shelters, improved lighting and CCTV, upgraded pedestrian crossings and upgraded cycle parking facilities at existing railway stations.
The new Lochee Integrated Transport Hub will provide an innovative canopy covered area including features such as bus bays, real-time information, dropped and raised kerbs, seating, streetscape and bike storage.