Bannockburn centre searches for virtual warriors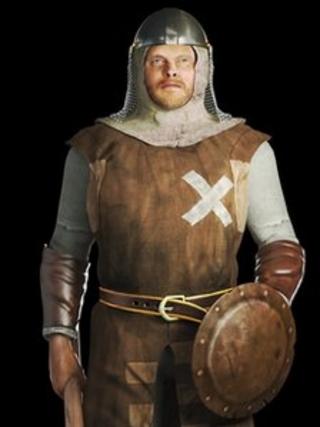 A search has been launched for six people to become characters in an interactive attraction bringing the Battle of Bannockburn to life.
The National Trust for Scotland (NTS) and Historic Scotland are looking for volunteers to be "scanned" for a new visitor experience.
Motion capture technology will turn the six into 3D characters to educate visitors about the battle.
The attraction will be completed by 2014, the battle's 700th anniversary.
Designers are attempting to create a fully immersive experience of what the battle was like.
The work is part of the Battle of Bannockburn project, which is a collaborative initiative by NTS and Historic Scotland to transform visitor facilities on the site of the historic battle.
Face scan
The project's interpretative designers Bright White Ltd have been working with academics to develop the profiles of all of the characters to be represented within the new experience, including Edward II and Robert the Bruce.
In order to maintain the realism, the team are looking for real people to have their faces scanned by the Centre for Digital Documentation and Visualisation.
Computer programmers will then turn the scan into a 3D character to help visitors learn more about the weaponry, tactics and techniques involved in the battle.
The team also wanted to dispel the myth that the battle was merely Scotland versus England. Scots fought on the English side, while Welsh archers and Irish footsoldiers were important to the English.
As such they are looking for a range of people to fill the roles.
The characters being created are:
James Douglas (male, age range: 25-35), a Scottish Knight with a personal vendetta against Edward I for killing his father, and one of Robert the Bruce's trusted lieutenants.
Juliana de Goldyngham (female, age range: 20-35), a spy sent to gather information from Stirling to inform the Edward II's army.
John de Coupland (male, age range: 12-16), a Page from Berwick Castle Garrison who has no real experience of the horrors of medieval war and hopes in due course to become a knight himself.
A local woman from Stirling (female, age range: 45-55), connected to Robert the Bruce's camp who supplied ale to the armies on both sides.
A Scottish Spearman (male, age range: 35-55) drawn from the better-off peasantry, with a general obligation to serve and determination to protect his land.
Welsh Archer (male, age range: 35-55), a professional soldier, with almost a mercenary attitude.